Benjamin Barber Beard Oil 50 ml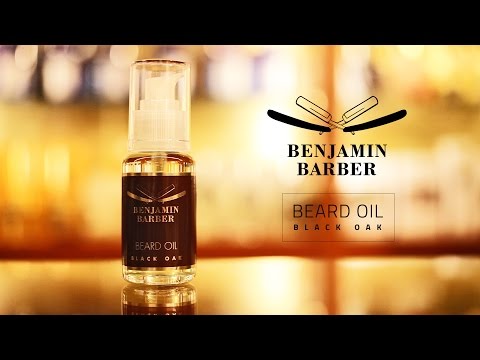 Benjamin Barber Beard Oil 50 ml
A premium beard oil from Benjamin Barber scented with natural fragrances.
Come in a practical pump bottle.
Comes in 3 editions
Black Oak: A sensual blend of tobacco, oak and leather mixed with dark, velvety notes of sandalwood and cedar.
Lime Pepper: A fresh, spicy scent with light, sparkling notes of lime and basil mixed with pink pepper and ginger.
Natural: An unscented oil which still carries the natural fragrances of its ingredients.
Volume: 50 ml
Customers also bought
What do others say?
This product has not yet been reviewed.
En av de bästa märken på marknaden!
Personer på arbetet tycker jag luktar gott
Bra olja,prisvärd, god doft
En av de bättre oljorna som jag har köpt
Helt underbar samt luktar gott
grym fruga gillade den får lita på henne när det gäller lukt. eftersom jag har noll i luktsinne efter en op.
Luktar väldigt gott men måste vara försiktig med doseringen. Lätt o ta för mycket o huden blir inte så glad.
Är helt ok till det lilla skägg jag använder det till
Den bästa jag har provat. Ett fast val nu mera.
Bästa jag har köpt mina utslag är nästan helt borta
Härlig doft och effekt
Jag har köpt denna olja flera gånger och har den dagligen i skägget. Tycker skägget blir mera följsamt och mjukare av oljan. Doften black oak gillar jag och ger en lång not av doft hela dagen.
Luktar gott och skägget blir mjukt
Bra, känns lite tjockare i konsistensen än flera andra jag provat och det gillar jag då jag tycker den stannar i skägget och har en mjukgörande effekt längre tid under dagen än dom rinnigare oljorna.
Fantastisk doft, en favorit.
fornøyd, men kunne gjerne vært litt kraftigere duft på denne:)
Bra och behaglig doft
Inte lika god och stark doft som jag förväntade mig, men den gör jobbet och till ett schysst pris!
Helt okej! Hade velat haft lite starkare doft.
Funkar bra, luktar gott.
Köpte Balck Oak, en riktigt maskulin doft som håller riktigt länge, oljan i sig är supernajs och du får ett mjukt följsamt skägg som doftar man.
Väldigt fräsch doft och oljan känns bra. Inte för fettig eller för vattnig. Dryg.
Denna produkt kan varmt rekommenderas
Bra skäggolja i riktigt smidigt pumpformat. Fick denna doft som test och älskar doften Oud. Hoppas den kommer i fler produkter!
Räcker länge och luktar mycket gott
Doftar gott sitter i länge lite starkt i början .helt ok
Helt grei, litt usikker på om jeg liker lukten.
Bästs skäggoljan!
Manlig doft och extremt praktisk munstycke att få ut oljan med utan att få för mycket
Det är fantastisk, det är underbart att vara hema igen.
En underbar Beard oli oud.
Lite väl \"oljig\" för min smak. Bra doft men gillar konsistensen på Bulldogs skäggolja mer.
God lukt gillar den är 100% organisk om det stämmer
Kanon med doseringspump direkt på flaskan.
Riktigt bra olja som med maskulin doft.
Bra till både skägg och mustasch, blir lite mjukare vid daglig användning
Lätt att applicera. Utmärkt resultat. Använder oljan till både skägg och hud.
Toppen produkt, luktar gott men inte för starkt så den stör parfymen
Skitgod lukt. Bra och lent för skägget. Använt i flera år nu.