Power Supplements 500 mg – promotes hair follicle productivity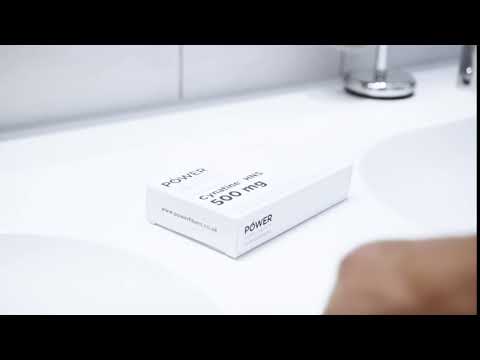 Power Supplements 500 mg – promotes hair follicle productivity
Power Supplements 500mg contains the powerful substance Cynatine HNS, also called keratin. Cynatine HNS is an unrivaled source of nutrition for hair, skin and nails and is clinically proven to promote hair follicle productivity and protect, repair and promote normal hair growth at an intake of 500 mg / day. 
Power Supplements also contain copper which supports the hair normal pigmentation (color) and Zinc, Iron and Selenium to create optimal conditions for normal hair growth. 
Use:
1 tablet daily with meals. One pack is enough for a month. 
Manufacturing:
Power Supplements are manufactured in Sweden and is under the MPA control. 
Contents:
Cynatine HNS, zinc sulfate, copper sulfate, fumarate, selenomethionine, Filler (microcrystalline cellulose, croscarmellose sodium), coating agent (Colloidal silicon dioxide), hydroxypropyl methylcellulose. 
Active Ingredients
Zinc sulphate ZN - 7500 mg
Copper sulphate Cu - 0500 mg
Ferrous fumarate Fe - 7000 mg
Selenomethionine - 0.025 mg
Customers also bought
What do others say?
This product has not yet been reviewed.
Kan inte dokumentera konkreta resultat men jag upplever en starkare volym och en hårbotten som inte är lika öm. Jag antar att resultat varierat från person till person. Skriver detta efter 2 veckor. Ingen mirakel kur produkt men definitivt bra i förebyggande syfte och mitigering.
Märkt att det är en aning mindre tunnare hår än vad jag hade innan, men behövs användas mycket mer för att jag ska märka av en markant skillnad.
Kan inte säga än om det har någon påverkan efter bara några veckor
Jag började bli lätt tunnhårig fram på hjässan och detta verkar hjälpa lite.
bara två månader in i behandlingen, Vet ej om det fungerar.
Känns som att det fungerar
två veckor in i behandlingen
lite tidigt att säga om den ger någon effekt
Märkte absolut ingen skillnad. Jag tillhör nog inte målgruppen...
Svårt att säga nåt idag
Inte sett någon särskilt stor skillnad än men ska gå in på vecka 3 nu.
Bra produkt. Upplever något förbättrad kvalitet både hos hår och hud.
Oklart vad de ger för effekt, kört ca 2v
Har endast kört en månad ännu men märker att håret känns starkare och inga hårstrån som följer med när jag tex tar i wax. Kommer deffo fortsätta använda mig av denna produkt.
Håret växer som aldrig förr och jag upplever att pigmentet på min hårfärg är lite mer starkt än vanligt.
Väldigt nöjd med produkten!.
Är inne på andra månaden men det känns bra
Har inte börjat använda produkten ännu men är positiv
Svårt att säga om det funkar eller inte då jag även började med andra produkter samtidigt som denna. Tappar dock inte hår längre alls
Måste säga att jag inte vet. Men jag hoppas den gjort någon skillnad!
Tycker att den här produkten faktiskt fungerar
Bra tillskott, känns som om det fungerar.